---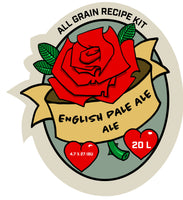 Sale
Batch size: 20 L
Our easy drinking English Pale has light bronze colour with a beautiful East Kent Goldings hop flavour (This is not a overly bitter beer)
Moderate malt flavour with slight honey and caramel notes.
The hop bitterness is not overpowering, with a herbal slightly floral hop aroma reflecting the use of English aroma hops.
OG 1.046
FG 1.010
IBU: 34
Alc: 4.7 %
Includes the following:
Pale malt

Caramalt

Chocolate malt

Northern Brewer Hops (bittering)

2 x East Kent Goldings hop additions (flavour and aroma)

Lallemand Windsor Ale yeast

Irish Moss

Recipe sheet & work order 
Please select 'crush my grain' - 0 - 12 kg to if you would like to have your grain milled.