---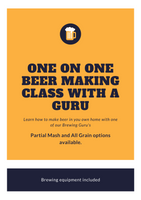 Let our Brewing Guru come to you and teach you how to make beer in your own home.
We will supply all the equipment needed. The lesson will last between 3 and 4 hours.
You can decide what style of beer you would like to make (just not Lagers and Pilsners - these need special refrigerated fermenting temperatures).
We offer Partial mash and All grain Brewing lessons - we will offer you the ingredients for your brewing class at a discount.
Price is for 1 - 2 people. Additional persons will cost R500 each.
Once we have made your beer you will need to ferment and bottle it at your own home (this takes 14 days). We will lend you a capper, hydrometer and a fermenter.
Important: The fermenter, hydrometer and bottling equipment will need to be returned to our premises in Maitland within one month of your brewing class being completed.
Classes can be held on Fridays or on Sundays.
Far away Locations might incur extra traveling costs.
Contact info@beerlab.co.za for more information or to check availability.