---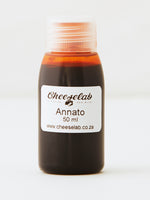 Cheese colouring is a safe, non-toxic vegetable dye that attaches to milk protein during the cheese making process. The ingredient responsible for the colour is annatto, an extract from the seeds of Bixa orellana, a South American shrub. Cheese colouring comes in liquid form and has an indefinite shelf life.
Use 0,6ml per 10 liter Milk or according to your recipe
Note: Always add before Calcium Chloride and Rennet. Dilute colour with bottled or distilled water.