---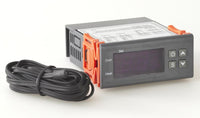 Sale
Control fermentation temperatures by connecting the temperature controller to a fridge/ freezer (and heating pad/belt if you have one). This is a two stage controller that will turn on a heating or cooling, whichever is needed.
Place the temperature probe directly on the side of your fermenter, set the desired temperature on the controller and the thermostat will regulate the temperature by either switching the fridge/freezer on or of, or by activating a heating pad/belt if you have one. 
Features
Temperature measuring range: -50 to 99  oC 2.   
Accuracy: ±1oC                     
Power supply: 220VAC±10%, 50/60Hz     
Sensor: NTC sensor (1PC);
Wiring - Please note: A common mistake when wiring the temperature controller is to assume that power will come out of the 5&6 and 7&8 ports. This is not correct, the heating and cooler ports are switches, not power supplies. See the below wiring diagram for instructions.