---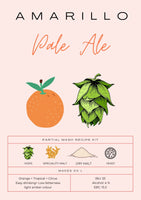 Take the next step in brewing by trying one of BeerLab's easy to brew tried and tested Partial Mash recipe kits. 
Makes 20 L
A juicy pale ale with low bitterness and a light amber colour. Loads of orange, tropical and citrus flavour.
Included in the kit:
Specialty malt
2 k of Dry malt extract
4 x Amarillo hop additions
Ale Yeast
Step by step instructions.
Needed but not included:

Thermometer, Grain bag (or pillowcase), 15L pot or bigger, strainer/sieve.
Please indicate if you need your grain crushed (grain has to be crushed to use it). You can add the 'crush my grain' option to your cart.
See link below