---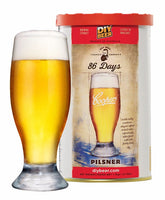 Sale
Expiry date 14 January 2023
Thomas Cooper, his wife Ann and their two children set sail for Australia from Plymouth, England aboard the SS Omega on the 29th May 1852. The treacherous sea voyage took 86 days and seemed like an eternity but they finally reached the sunny shores of Adelaide on the 24th August.
86 Days Pilsner pays homage to the journey Thomas took to make a fresh start for his family. It's golden in colour with subtle malty sweetness and elegant refined herbal notes, a refreshingly clean, crisp bitter finish and rich frothy head. Thankfully, it will take you a lot less than 86 days to make it.
Colour : 55EBC
Bitterness : 490BU
Recommended to be brewed with:
1kg Light Dry Malt (listed under brewing sugars)
Carbonation drops or carbonation sugar pack needed to carbonate your beer when bottling.
https://www.beerlab.co.za/collections/bottling/products/carbonation-drops
https://www.beerlab.co.za/collections/bottling/products/priming-sugar