---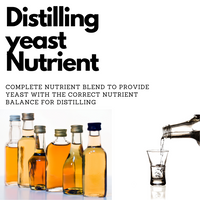 50 g sachet
This is a complete nutrient blend to provide yeast with the correct nutrient balance for growth in beverage alcohol fermentations.
The nutrient contains a proprietary blend of inorganic nitrogen (diammonium phosphate), organic nitrogen (free amino nitrogen derived from inactivated yeast), and key vitamins and minerals including thiamine, niacin, folic acid, magnesium sulfate and calcium pantothenate.
It also provides sterols and unsaturated fatty acids, which lend alcohol resistance to the yeast.
Distilling yeast nutrient can be added to the propagator, to the fermenter at start of  or part way through the fermentation when yeast budding begins to decline. Use  12 to 24 grams per 100 liters of mash.
In refined sugar fermentations (cane sugar, fructose syrup, converted pure starch sources), use at higher dosages of 8 pounds per 1,000 gallons (100 grams per hectoliter), or at 4 pounds per 1,000 gallons (50 grams per hectoliter) if other external nitrogen sources are added. Do not mix concentrated nutrient directly with yeast or add to dry yeast during rehydration.