---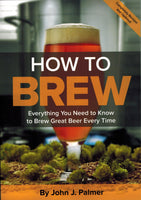 Revised and Updated Edition

How to Brew: Everything You Need to Know to Brew Great Beer Every Time by John Palmer, is the definitive guide to making quality beers at home.


How to Brew is a must-have to update every new and seasoned brewer's library.
From ingredients and methods to recipes and equipment for brewing beer at home, How to Brew is loaded with valuable information on brewing techniques and recipe formulation. The completely revised and updated edition includes additional emphasis on Palmer's top five brewing priorities: sanitation, fermentation temperature control, proper yeast management, the boil, and recipe development, as well as five new chapters covering malting and brewing strong beers, fruit beers, sour beers, and adjusting water for style.
John Palmer is also co-author of Brewing Classic Styles and Water: A Comprehensive Guide for Brewers. He was born and raised in Midland, Michigan, and graduated from Michigan Tech University. After 20 plus years in aerospace and medical devices, he now serves as publications director for the Master Brewers Association of the Americas.