---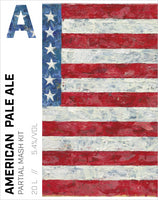 Sale
Take the next step in brewing by trying one of BeerLab's easy to brew tried and tested Partial Mash recipe kits. 
The American Pale Ale is a  refreshing amber coloured pale ale with a citrus-laden hop aroma.
If you love the grapefruit flavours of cascade you will definitely fall in love with this easy drinking beer.
Ready to drink as soon as it's carbonated
Makes 20 Liters
Alcohol: 5.08%
Included in kit: 
1 kg Pale Malt
100 g Special B
300 g T50
2 kg Dry Malt Extract
30 g Southern Passion hops
35 g Cascade hops
5 ml Irish Moss
American Ale yeast
STEP BY STEP INSTRUCTIONS.
Equipment needed:
thermometer
grain bag
Large sieve/Colander
15 L pot or bigger
Need your grain Crushed? Please add below link to your cart
https://www.beerlab.co.za/collections/grains/products/crush-my-grain